Install Cool, Update with Newest - Microsoft Web Platform Installer
2011-09-02
---
When we installed a web platform, for example, we installed a PHP or IIS version, How were you going to do if they released PHP or IIS new version? Normally you had to their update guide to do the update manually step by step. And another problem is that all the existing edition on your computer can not let you know current installation version and current release version directly. also, sometimes you did not know whether you had already installed some stuff or not (you had to go to control panel to check the installed software list, but sometimes you still could not see some web platform from control panel).
The Microsoft Web Platform Installer 3.0 (Web PI) is a free tool that makes getting the latest components of the Microsoft Web Platform, including Internet Information Services (IIS), SQL Server Express, .NET Framework and Visual Web Developer easy. The Web PI also makes it easy to install and run the most popular free web applications for blogging, content management and more with the built-in Windows Web Application Gallery.
Check Microsoft site to know more about Web Platform Installer and find download URL there. If you do not want to install the Web Platform Installer separately, you can install with other product such as the Visual Studio SP1 directly, the Web Platform Installer will be installed with them together if system found you have not installed Web Platform Installer.
After you install Web Platform Installer, you can find it easily at the next time to use it. Just input searching words in Searching box like the following screen shot: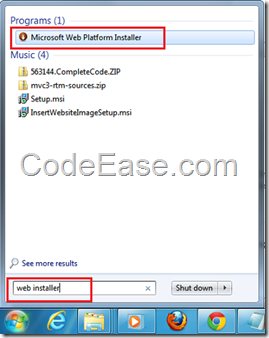 When you open Web Platform Installer, it will search the existing software which you have installed on your Windows system, and finally it give you a list to web stuff installed or not installed yet list: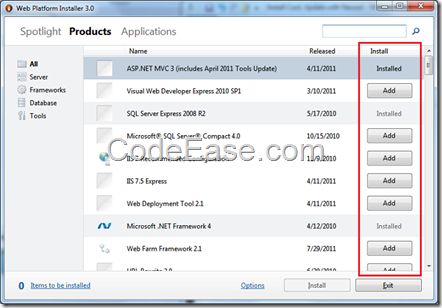 If the software which you have not installed yet, just click the Add button to add this software into install list to install later.