If you bought something in this Black Friday (2015) sale day or week, you might have seen some products had become much hotter comparing previous years. The one type of product is smart home device, such as IP Camera with smart features, Smart Thermostat (from Google), Smart Lock, Smart Security Devices etc.
Let me give simple introduce info for several popular Smart Home Devices in current market:
Smart IP Camera: For example the camera from D-LINK. You put the camera somewhere in your home, it takes real time video for you. With its motion detect function, you can pre-set a small area for the motion detection, it will send you notice message to your smart cell phone (or tablet, or computer) as long as it detected the motion changing in this area;
Smart Lock: If the lock is gotten attack, the lock will send message to house owner's cell phone, tablet or computer;
Smart Thermostat: Google's device comes with self-learning function. it can learn your heating and cooling preferences so that so you don't have to program it. Also you can control and monitor your heating and cooling via your cell phone, tablet or computer;
OK, now let us talk about another type of smart device which every house needs: Smart Gas Detect Device.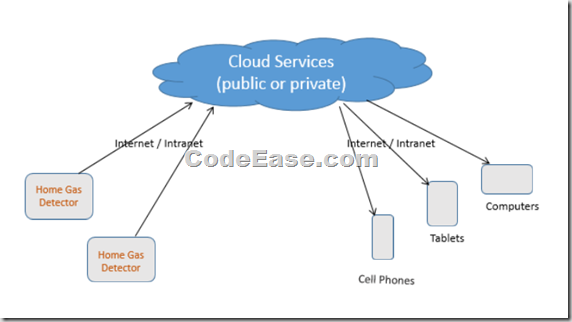 (It is a simple graph which can show how works the Smart Home Gas Detector above)
In some provinces and states of North America countries, the** CO monitor and Smoke Alarm monitor** are mandatory home devices. But most of CO and Smoke monitors are still traditional devices without internet smart features. We should let those devices connect to internet, and send message or receive message with house owners. If it detects smoke in house, the device should send alarm message to owner's smart phone via internet right away, Note, it sends or receives messages via WiFi / internet, not via those old transfer solutions such as using telecommunication services, at least NOT ONLY using tradition solutions.
So I strongly recommend those industries companies to invest the smart devices if they can. For example, some companies are providing gas detect devices for coal mines with long history, but are they possible to expand their products to Home Smart Devices? or making Smart devices with IoT feature (Internet of Things). It is really a great time now !
Related Posts: