Since many years ago we have used Microsoft Office software to handle our document works. We use Word to write general document, we use Excel to build spreadsheets, we use Power Point to write presentation files.
We knew if we need to use Microsoft Office software, we should have a legal Office software version and have to install it on our local computer. That means 2 parts: the one you should pay, the two you should install software which you might have to consider how the left hard driver size available .
Now the world tech turned to a new thing – the Cloud Service. Here we don't want to talk too deep about Cloud, but you just know: at least you do not need to install the heavy Microsoft Office software on your computer if you use Cloud Service.
Let us start and let the thing simple, what we are talking about ?
OK, go to your hotmail or live email account. and check your top menu, you can see a "Office" menu:
(If you don't want to open Office web apps through your hotmail or live mail, you can directly visit this address: http://office.live.com)

Click Office menu, and then you can see the following page, on the right side, you can see there are 4 icons which indicate Microsoft Word, Excel, PowerPoint and OneNote. Currently in the world wide range, Microsoft only provides these 4 apps for free which are the most popular office software.

You can try to click "Word" or "Excel" icon to go to a online Word document edit page or an Excel edit page, see below:
Word edit page:

Excel edit page:

You can see they are almost the same interface as your local Word and Excel. so you can use them just like you use your local office software.
Tip: You can not find the "Save" button or menu to save your document, because Microsoft said we do not save document by manually, all saving is automatic, you don't need to be worry about you lose your document.
When you created some files, and return to main page, you can find more features as below showing such as you can Change permissions and share with other people: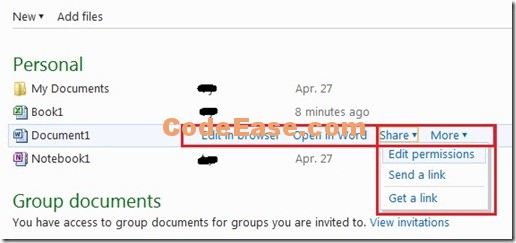 By the way, Microsoft Office Web Apps are not only for computer browser , but also available for mobile phone.
Please read more information on Office Web Apps official site.
Also, you can go to their facebook page