2011 June 16, Microsoft Released Kinect for Windows SDK beta.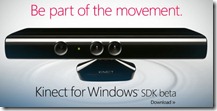 The Kinect for Windows SDK beta is a programming toolkit for application developers. It enables the academic and enthusiast communities easy access to the capabilities offered by the Microsoft Kinect device connected to computers running the Windows 7 operating system.
The Kinect for Windows SDK beta includes drivers, rich APIs for raw sensor streams and human motion tracking, installation documents, and resource materials. It provides Kinect capabilities to developers who build applications with C++, C#, or Visual Basic by using Microsoft Visual Studio 2010.
Microsoft developers should be exiting for the news now. Kinect is a really super product of Microsoft. Developers can write much more Kinect projects using the SDK now. Also, there might be more open source projects based on Kinect.
The download place:
http://research.microsoft.com/en-us/um/redmond/projects/kinectsdk/download.aspx

Microsoft announce that anyone can use this SDK Beta for their personal programming interests.  However, The SDK Beta is licensed under the terms of the license agreement for Microsoft Kinect for Windows SDK Beta from Microsoft Research. The SDK Beta is licensed for non-commercial use only.