MSDN Magazine
2011-08-04
---
Do you know MSDN Magazine? You might not know but just know MSDN.
What ever, you know MSDN, then you can guess the content of MSDN Magazine:  Find articles written by expert software developers to hone your skills in developing for and on Microsoft technologies.
Microsoft has started to issue MSDN Magazine since 2000.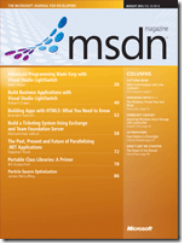 You can read the magazine online from here: MSDN Magazine: Find Issues By Year.
Also, you can download the digital MSDN Magazine.