Show Desktop in Windows 7
2011-06-07
---
There was a Show Desktop icon in Windows XP when you turn on the "quick launch" in taskbar. When you click Show Desktop icon, you can switch from desktop and your application quickly and conveniently.

When you update to Windows 7, maybe you will be confused by lots of changings, for example: Where the Show Desktop icon is ?
Actually, Windows 7 provides more options to let your switch your desktop and applications.
Way 1: Show the desktop menu item
Move mouse on task bar on the bottom of your Windows 7, right click , you will see "Show the desktop" menu items, Click it when you want to show desktop.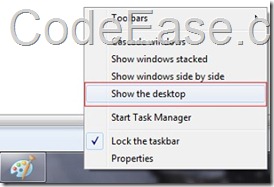 When you come to desktop, the "Show the desktop" menu item will changed to "Show open widows" so that you can switch back to your previous windows.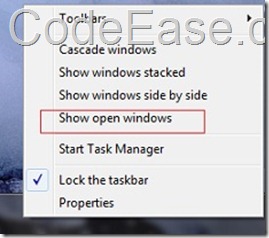 Way 2: The most simple way: Click the rectangle area which indicates show desktop
Please check your windows 7 task bar carefully, just on the right bottom corner, there is a small and some transparent rectangle, which indicates Show Desktop, When you click it, the desktop will show, click one more time, system switches to your previous window; when your mouse hang over it, the desktop will show at once, when your mouse moves always, it will come back to your current window.

You also have other ways to get the show desktop, but we don't think they make sense for you. The 2 ways above should be your best and common ways.