SQL Server Restricted User ?
2011-01-25
---
Sometimes you might find your SQL Server database is in "Restricted User" mode: like following: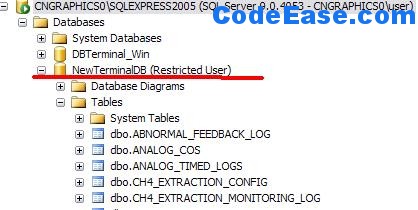 What does "Restricted User" means?
First, let us read MSDN information:
Specify which users may access the database. Possible values are:
The normal state for a production database, allows multiple users to access the database at once.
Used for maintenance actions, only one user is allowed to access the database at once.
Restricted
Only members of the db_owner, dbcreator, or sysadmin roles can use the database.
So how to disable Restricted ?
1: Run the following commands:
ALTER DATABASE database SET SINGLE_USER WITH ROLLBACK IMMEDIATE
GO
ALTER DATABASE database SET MULTI_USER
GO

2: Using SSMS right click on the database -- properties –option in the right pane you can find restrict access
SINGLE_USER = only one db_owner, dbcreator, or sysadmin user at a time

RESTRICTED_USER = only members of db_owner, dbcreator, and sysadmin roles

MULTI_USER = all users

(OR)
SELECT DATABASEPROPERTYEX('<DBName>','UserAccess')--- (Indicates which users can access the database)

alter database <DBNAME> set multi_user