2015 DontnetConf just passed, .NET developers got many existing news from .NET team and community. WPF is the one.
In last year, Nov 12, WPF team announced a new Roadmap for WPF. but there were not enough and details information.
But on the 2015 dontnetConf, we got more information, Microsoft will definitely continue to support WPF, and, they announce they will have the following areas of investment.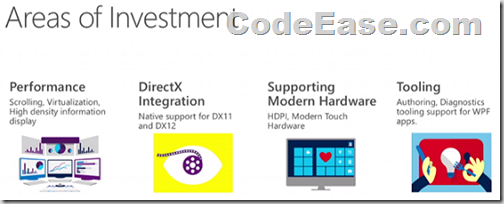 1: Performance;
2: DirectX Integration: Native support for DX11 and DX12;
3: Supporting Modern Hardware;
4: Tooling
Please check the video following, or from official site here :
Not only above news, also, The WPF team will provide another event about WPF next week:
WPF Team Live Q&A Connect("Live")
So see you next week, to get more WPF exiting news.
Cross-Platform ?
Actually I never doubted WPF's power and future, but there is only ONE problem: When WPF support Cross-Platform? Mono team has announced they will NOT have details or decision of converting WPF to on Linux platform since WPF is such a huge project. Then we have to wait information from Microsoft itself. Unfortunately, The WPF team did not give us their plan on Cross-Platform supporting.